Manufacturers of Deicious Candied Fruit, specially papaya
Rare combination of magnificent taste, attractive appearance and health advantage has made this product a popular sweet. It is made from the pulp of a fresh fruit, first cooked in syrup, and then dried. Candy fruits can be stored in a dry cool room during a year, without losing their taste. Consumed instead of a candy, the candied fruit will fill up the store of carbohydrates in a body, but without preservatives and food colouring agents which are used in confectionery.
Sakshi Foods carries out wholesale deliveries of papaya candied fruits, also known as tutti-frutti. Our customers include retail trade stores. Cafes, restaurants, bakeries, confectioneries, and mass food production companies.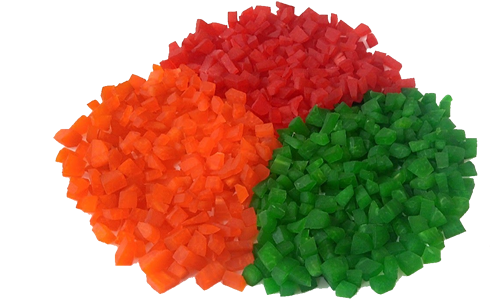 Advantages of candied fruits direct supply with Sakshi Foods:
Perfect Quality: Taste and texture meet the stated standards;
Perfect Packing: Packing options can vary in accordance with customer's wishes;
Perfect Supply: Regardless of seasonal fluctuations in demand, the company doesn't violate obligations for terms and scopes of supply.